Songs For A Friend ARE THE SIX FORGOTTEN TRACKS YOU'VE NEVER HEARD AND Linda Bruner IS A FOLK LEGEND YOU'VE NEVER MET. ALLOW ME TO INTRODUCE YOU.
     BACK IN 1970, FRESH OFF A STINT WITH THE PSYCH ROCK BAND "Pisces", A TEENAGE BRUNER WENT TO THE BACK OF Nielsen's Music Store IN Rockford, Il TO CUT A HOMEMADE ACOUSTIC MIXTAPE FOR A NOW ANONYMOUS FRIEND. IN ONE CONTINUOUS JAM SESSION, BRUNER AND "Pisces" GUITARIST Jim Krein LAID DOWN FIVE UNREHEARSED,BLUESY FOLK RENDITIONS OF CLASSIC RECORDINGS FROM THE LIKES OF Ray Charles AND The Beatles.THESE SIX SONGS ~FIVE COVERS AND ONE BONUS BRUNER WRITTEN ORIGINAL ARE TIME CAPSULES THAT PRESERVE A BRIEF MOMENT OF CREATIVITY BETWEEN BRUNER AND KREIN EACH REVEALS UNPOLISHED IMAGINATION FROM AN ARTIST WHO NEVER GOT THE CHANCE TO SHINE.
   THANKFULLY, MODERN DAY FINGER PRINTS DIDN'T SMUDGE THE RECORDINGS SPECIAL CHARACTER. ORIGINALLY MARKED AS Linda's Tapes For A Friend, The Numero Group DISCOVERED AND REISSUED THE COMPILATION WITH CHARMING IMPERFECTIONS INTACT. BRUNER'S HEAVY SULLEN VOICE CRACKS A LULLING HISS LURKS BEHIND HER VOCALS. BACK AND FORTH BANTER BETWEEN BRUNER'S AND KREIN POPS UP THROUGH OUT THE RECORDING. WHERE THE FIVE EARLIER TRACKS WERE POLISHED FOR THE PUBLIC, BRUNER'S RECREATIONS WERE SPIT SHINED. HERS ARE THE INTIMATE, BARE,FOOTED VERSIONS. THERE IS NO SPECIAL ENGINEERING, NO BELLS OR WHISTLES, JUST A WOMAN, HER GUITAR, AND HER HEART. AND "Songs For A Friend" HER HEART IS CARRYING A HEAVY LOAD.
   WHEN John Lennon LED The Beatles IN "Don't Let Me Down", THEIR 1969 HIT WRITTEN FOR Yoko Ono, THEY RELEASED AN UP~TEMPO POP TUNE WITH STEADY PERCUSSION AND A VULNERABLE COOL. Linda Bruner, HOWEVER, CUTS AT THE SURFACE OF THEIR ROCKSTAR LOVE BALLAD TO MAKE THE SONG BLEED. HER RENDITION IS INTOXICATED WITH FIERCE LOVE THAT DOESN'T JUST REQUEST OF HER LOVER, "Don't Let Me Down", SHE NEARLY BEGS IT. ON Glen Campbell's Wichita Lineman", BRUNER SCRIBBLES ALL OVER CAMPBELL'S SYMPHONIC, STIFF COLLARD COUNTRY. HER DRENCHED VOICE WRINGS OUT AN UNKEMPTED VERSION THAT QUIVERS AND SHAKES WITH CANDOR.
      A RARE GLIMPSE OF DAYLIGHT ON THE OTHERWISE BROODING RECORDING IS INTRODUCED ON BRUNER'S INTERPRETATION OF "Georgia On My Mind". WHEN Ray Charles SANG IT, HE PLACES Georgia DOWN ON A TIDY BED OF BLUES, BUT BRUNER CRADLES HERSELF, SINGING LIKE IT'S THERAPEUTIC TO RELEASE SOUND FROM HER THROAT. ON THE LAST TRACK, "Rainy Night In Georgia", BRUNER SPEWS A SULTRY SADNESS IN THE CHORUS, AND THEN TELLS KREIN MID-SONG TO, "START OVER I GOT AN IDEA".
   UNFORTUNATLEY, THE ALBUM ABRUPTLY ENDS BEFORE SHE GUIDES THE MELODY TO ITS NEW DIRECTION AN ABANDONMENT THAT'S IRONICALLY SIMILAR TO HER CAREER IN MUSIC, AS "Songs For A Friend" IS BELIEVED TO BE Linda Bruner's LAST KNOWN RECORDING. SOME ACCOUNTS STATE THAT SHE HAS BEEN HIDING FOR YEARS, REPORTEDLY ON THE RUN FOR FRAUD, WHICH IS A TOUGH ENDING TO SWALLOW AFTER HEARING THIS ALBUMS UNFORGETTABLE DISPLAY OF AUTHENTICITY.
  Pisces A Lovely Sight~NOT A LONG LOST BUT AN UNRELEASED GEM~SEEMS TO COME OUT OF NOWHERE AND THATS BECAUSE IT DOES. CONSISTING OF A CORE DUO OF Rockford, Il TOWNIES WITH A STUDIO AND A FEW TRICKS UP THEIR SLEEVES, Pisces WERE AN AMBITIOUS PROJECT SPEARHEADED BY ORDINARY FOLKS THAT NEVER QUITE SAW THE LIGHT OF DAY. IT'S NO SUPRISE THEN THAT A Lovely Sight SOUNDS LIKE LITTLE ELSE FROM THE TIME PERIOD~.
  MINIMAL, ALMOST SING~SONG MELODIES ARE BASTED IN REVERB AND GARNISHED WITH EXPERIMENTAL, ON THE FLY RECORDING INNOVATIONS, SOME BORN OF NECESSITY, OTHERS OF TRIAL AND ERROR~SOUNDS ARE PLAYED BACKWARDS AND BROKEN INSTRUMENTS ARE EMPLOYED TO HALLUCINOGENIC EFFECT. SEVENTEEN YEAR OLD Linda Bruner, A STRANGE GIRL FROM DOWN THE WAY (AND NOWADAYS, AS FAR AS EVERYONE KNOWS, ON THE RUN FROM THE LAW) SINGS ON FOUR TRACKS, AND HER HAUNTING VOICE, WHEN IT APPEARS, COMPLIMENTS PERFECTLY WITH HER BAND MATES SKEWED POP CREATIONS~.
  A RECORD ALL THE MORE FASCINATING BECAUSE OF THE DRAB SETTIN IN WHICH ITS CREATORS WORKED, A Lovely Sight IS A NATURAL ADDITION TO THE Numero COLLECTION.
   FORGOTTEN 60'S BANDS UNEARTHED BY RECORD FIENDS RAREY BLOW MY MIND, BUT Pisces IS AN EXCEPTION. IN JUNE The Numero Group RELEASED "A Lovely Sight", A COLLECTION OF 15 TRACKS FROM THIS ROCKFORD PSYCH OUTFIT, AND IT'S A STUNNER~. THE CORE MEMBERS WERE KEY BOARDIST & SINGER Paul Diventi, WHO'D GIGGED IN ROCKFORD DANCE BANDS, AND GUITAREST Jim Krein, WHO PLAYED IN THE Chandras WHILE AT THE UNIVERSARY OF Illinois & WORKED THE Chicago's North Side CIRCUIT WITH THE Monday ~ Tuesday Band BEFORE SETTLING DOWN IN Rockford & PARTNERING WITHE DIVENTI AS Seeds Of Reason.
    THEY CUT A PROMO~ONLY 45 WITH Bobby Whiteside PRODUCING, BUT AFTER KREIN VISITED San Fransisco IN 1967 THEY BECAME DELICATELY PSYCHEDELIC "A Lovely Sight" (THOUGH THEY WERE PLAYING ROUGH Cirero BIKER BARS). FINALY THEY CHANGED THEIR NAME TO Pisces (AFTER THE STAR SIGN THEY SHARED) AND BUILT A MODEST STUDIO, WITH EQUIPMENT ON LOAN FROM THE SHOP RUN BY Rick Nielsen's PARENTS. Pisces WERE MORE A RECORDING PROJECT THAN A LIVE BAND, KREIN HAD INSOMNIA AND EXPERIMENTED IN THEIR STUDIO CONSTANTLY, USING BACKWARDS GUITAR, PHASED DRUMS, & TREATED VOCALS TO CREATE UNEARTHLY SOUNDS WORTHY OF Abby Road.
    Rockford's ONLY REAL LABEL HEAD TAILOR Vincent Chiarelli, SIGNED THEM TO HIS VINCENT IMPRINT, RELEASING TWO 45'S IN 1968 UNDER THE NAME "Bruner", AFTER Pisces ADDED 17 YEAR~OLD SINGER Linda Bruner, A TALENTED BUT TROUBLED SOUL FROM  Rockford's "WRONG SIDE OF THE TRACKS" IN Loves Park. HER ETHEREAL VOCALS ADDED A NEW DIMENSION TO THE GROUP, LIKE Nico DID FOR THE Velvet Underground. BUT A PLANNED LP WITH BRUNER NEVER MATERIALIZED, AND A.L.S. STUDIOS BURNED DOWN IN 1970, CRIPPLING THE BAND AND ENDING THE PARTY. MORE THAN 35 YEARS LATER, Numero WOULD SIFT THROUGH A MOUNTAIN OF UNRELEASED RECORDINGS, WITH KREIN & DIVENTI'S HELP TO COMPILE "A Lovely Sight.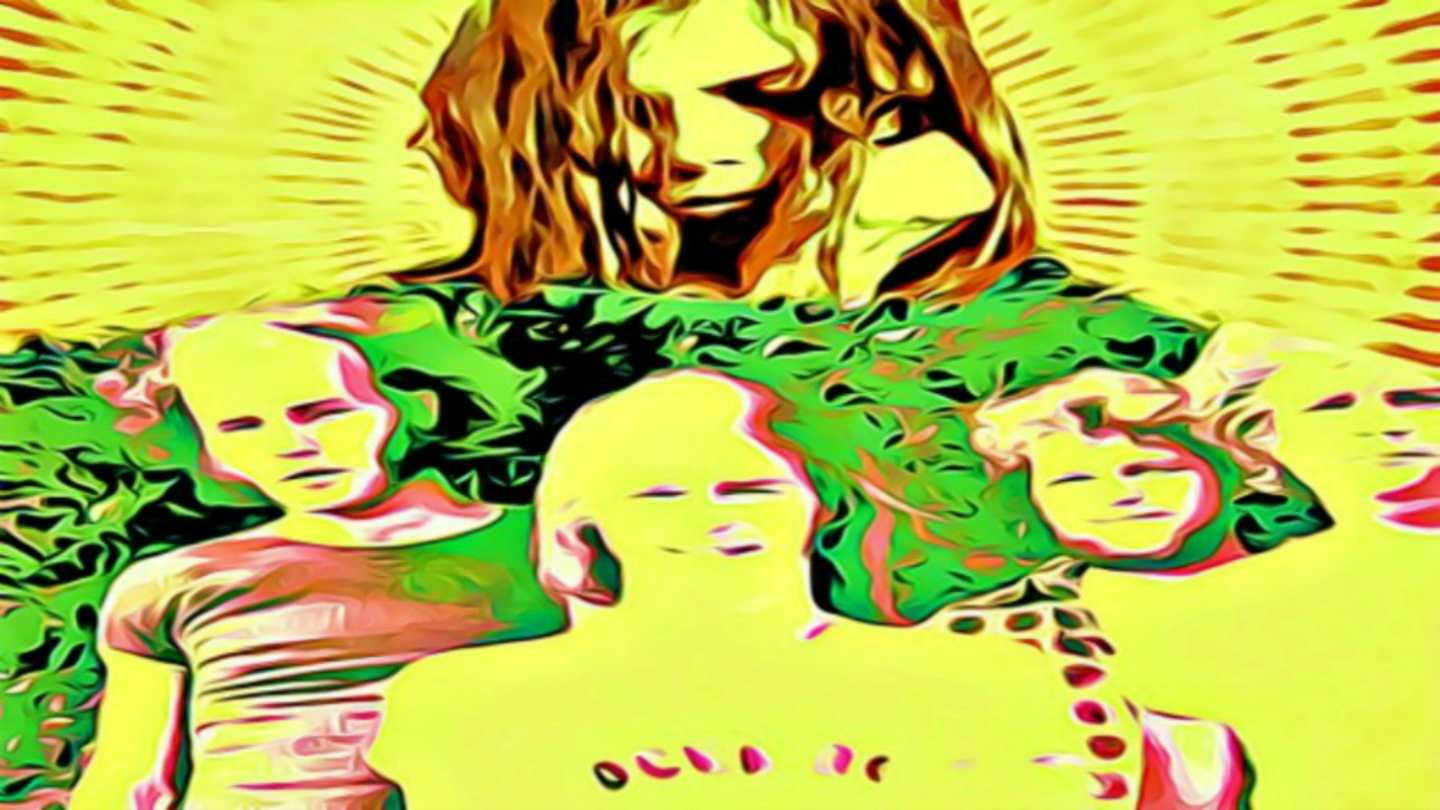 /